When is a Skin Biopsy Necessary?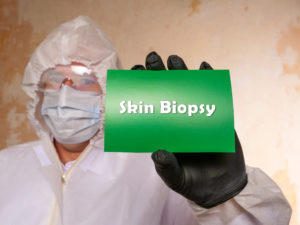 If your doctor has recommended a skin biopsy, you probably have a lot of questions. In this post, we'll discuss how to know when a skin biopsy is necessary and a few tips on how to prepare.
What is a Skin Biopsy?
Put simply, a skin biopsy is when your doctor takes a small piece of your skin tissue for analysis. Skin biopsies can be done in various ways, including:
Punch – a special tool removes a circular piece of tissue

Shave – a razor blade is used to remove a flat piece of tissue

Excisional – a scalpel is used to remove a piece of tissue (varying shapes)
Do I Need a Skin Biopsy?
Certain signs and symptoms may prompt your doctor to mention doing a skin biopsy, including:
A rash that will not resolve with other treatment methods

Scaly skin

Rough textured skin

Irregular moles

Open sores that will not heal
These are not the only reason your doctor may request a skin biopsy. Always listen to your doctor's advice when they recommend diagnostic testing…it could save your life!
What Can a Skin Biopsy Find?
After your doctor does a skin biopsy, you'll probably anxiously await the results, fearing the worst. While skin biopsies can help diagnose serious conditions, like skin cancer, they can also give insight into other conditions. A few of the issues skin biopsies can help identify include:
Psoriasis

Eczema

Infections (bacterial and fungal)

Skin cancers
How Can I Prepare for a Skin Biopsy?
The good news is that you don't have to do any special preparations to get a skin biopsy. It's a very simple, common procedure that's done right in your doctor's office. You will get a local anesthetic before the procedure, so be sure your doctor knows about any allergies you may have, especially previous reactions to anesthetics.
Skin Evaluations in Tampa Bay
Are you having a skin-related issue that you believe may necessitate a biopsy? The medical team with Dr. Kavita Rao can evaluate your condition and help develop a treatment plan, including a skin biopsy if needed. Call us at 727-525-0900 or contact us online to schedule an appointment today.